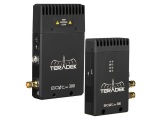 Transmit uncompressed 1080p video wirelessly over 300 feet with the Teradek Bolt Pro 300 3G-SDI Wireless Transmitter-Receiver Set. Included in this set are a Teradek Bolt 300 transmitter and receiver both equipped with 3G-SDI ports. The units in this kit are compact and feature internal antennas so they can fit on your camera rig and in your video village, DIT cart, or director's monitor rig.

When transmitting uncompressed video, latencies of less than one millisecond can be achieved if no other video processing is necessary. Unnoticeable latency is important for directors and focus pullers to see the action at the same time the camera does.

A boon for DITs, the USB GRAB engine streams the uncompressed video straight out of the receiver and into a PC for immediate recording. With this video available, rough edits can be made even before the footage is offloaded from the camera.

Features:
- Uncompressed Video and Audio Transmission
- Supports Resolutions up to 1080p60
- 300ft Distance with 1ms Latency
- Uses License-Free 5 GHz Frequency
- 3G-SDI Input & Loop; 3G-SDI Output
- Video Output via USB 3.0 GRAB Engine
- Internal Antennas

Color monitors are available separately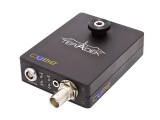 The Teradek Cube-150 1 Channel HD-SDI Encoder is a camera-top HD video encoder, and is suitable for on-set video monitoring as well as full-scale film production. It features HD-SDI (serial digital interface) input, dual band WiFi (2.4/5.8 GHz), and an external USB port. In addition, the cube encoder features line-of-sight (waves traveling straight line) WiFi range up to 300' (91m).

Featuring a setup wizard, the Cube 150 HD-SDI Encoder web interface simplifies configuration. You can create a network, log on to Cube's web interface, complete the setup wizard, and start streaming video after connecting video to the Cube system. The Cube 150 HD-SDI Encoder features H.264 High Profile (level 4.1) video compression to offer high video quality at lower bit rates.

Downscaling to lower resolutions is possible via a built-in scaler that allows for output streaming resolutions of 1080p/PsF, 1080i, 720p, and 480i. Based on available IP bandwidth, you can choose target bit rates (HD - 2 to 4Mbps, SD sub-1Mbps) and a video resolution as required. The Cube encoder offers end-to-end latency (time delay) of 1/8-1/2 second.

With a small size and compact design, the Cube 150 HD-SDI Encoder can be mounted to a rail system, cage, hotshoe, or camera baseplate. In addition, it can be used with camera systems such as Red One, Arri Alexa, and Panavision Genesis. The Cube encoder requires only 2.5W DC power.

The Teradek Cube 155 HD-SDI Encoder with WiFi is a wireless camera-top video and embedded audio encoder. It connects to a camera by SDI and streams proxy files/dailies in H.264 to a decoder or website. You can stream by dual-band WiFi wherever a network is available, by Ethernet via an optional router, or by an optional 3G/4G modem connection. You can also store the files to a MicroSD card as the Cube features a MicroSD slot with support for up to 32GB cards.

For mounting, the Cube attaches either onto a camera's hot-shoe or onto a cage/rig by an included 1/4"-20 mounting screw. Aside from the SDI input, connections consist of an Ethernet port, a 1/8" line/mic input, and a headphone jack. A micro USB slot is available for charging and configuring.

The Teradek Cube has a rechargeable internal lithium-ion battery that lasts up to two hours. It can also be powered with the included AC power adapter or by an external battery via a 2-pin Lemo input. An OLED screen indicates what the remaining battery life is and also displays online status and the URL being streamed to. Optionally, Teradek offers camera batteries with 2-pin Lemo output so you can easily power both the camera and Teradek with the same battery. The following three 2-pin Lemo batteries can be used for power: the Teradek Canon BP-945, Teradek Panasonic D54, and the Teradek Panasonic VW-VGB6.

SDI Connection to a Camera

Streams proxy files in H.264 to a decoder or website
Streams by WiFi, by Ethernet, or by optional 3G/4G modem
Stores files to an optional MicroSD card of up to 32GB in capacity
Attaches to a camera's hot-shoe or onto a cage/rig by a 1/4"-20 screw
Powered by a two hour internal battery or by an included AC power adapter
An OLED screen indicates battery life, online status, and the URL being streamed to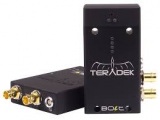 The Teradek Bolt Pro Wireless 1080p60 SDI Monitoring Transmitter & Receiver wirelessly transmits an uncompressed HD video signal in up to 1080p60 4:2:2 as far as 300 ft with zero delay. The receiver features two 3G-SDI outputs for dual monitoring. One of these can be used to pass the video signal to an optional Teradek Cube Encoder, which will stream the signal even further on by WiFi or Ethernet, although only in up to 1080p30.

The Bolt Pro transmitter has a looping SDI output for local monitoring, a 70 minute internal battery, and can connect to more than one receiver in order to multiply the outputs.
Wireless 1080p60 4:2:2
The Bolt Pro Transmitter and Receiver set can wirelessly transmit 1080p60 4:2:2 up to 300 ft with zero delay.

1 TX to Multiple RX
A second and even more than two receivers can be added into the setup. One Bolt Pro transmitter can transmit full 1080p60 HD video to multiple receivers simultaneously. Bolt receivers have dual 3G-SDI outputs, which can connect to field monitors, switchers, and also Teradek Cube Encoders.

WSDI Pro Connectivity
Bolt transmits uncompressed video using WSDI Pro, which provides a wireless range of up to 300 ft and can coexist with other wireless equipment by dynamically adjusting the frequency bands used in real time. Bolt Pro transmitters have loop-through SDI outputs that you can connect to local monitors or recorders.

Internal Battery / P-Tap / Lemo DC for External Batteries
The transmitter has an internal 70 minute battery and a P-tap input for connecting to camera batteries. An AC power supply is included for the receiver. The transmitter and receiver each also have a Lemo DC input for connecting external V-mount or Gold-mount batteries.

Rugged Design
The transmitter has a milled aluminum body, and the receiver has an ABS plastic body. Both the transmitter and receiver have 1/4" mounting threads and can be attached right onto or next to the equipment you'll be using them with.


Transmitter
Connections:
1x SD/HD/3G-SDI input
1x looping 3G-SDI output
Resolutions: Up to 1080p60
Wireless Range: Up to 300 ft (91 m)
Power: Low power: ~4.5 W
Lemo 6 - 16 V DC input
Rechargeable lithium-ion battery with 70 minute run time
Chargeable over mini USB port or DC input
Encryption: AES128
Chassis: Milled aluminum
Mount Type: 1/4"-20 threads
Operating Temperature: 32 to 122F (0 to 50C)
Dimensions: 2.3 x 4.3" (5.8 x 11 cm)
Weight: 0.4 lb (0.2 kg)

Receiver
Connections: 2x SD/HD/3G-SDI outputs
Resolutions: Up to 1080p60
Power: Low power: ~6 W
Lemo 6-28 V DC input
Chassis: Durable ABS plastic
Mount Type: 1/4"-20 through-hole
Dimensions: 2.95 x 4.3" (7.5 x 11 cm)