TVLogic
The business environment surrounding us rapidly changing every moment, and especially the digital broadcasting environment changes so fast, thus without the proper react we cannot survive in this tough business world. TVLogic has been developing, manufacturing and selling the reliable and high performing HD video equipments into the digital broadcast and professional video markets to meet the customers' requests since we started in March, 2002. For the most, we have been providing a high quality of broadcasting HD LCD monitors in line with the fast growing of HD needs in the market.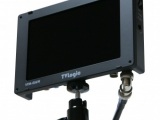 [
+ enlarge
]
The VFM-056W/WP is available in two configurations and is ideal for HD-SLR production. A 6"x4"x1" lightweight magnesium-alloy case houses a 5.6" 1280x800 LED backlit LCD display with a full complement of preferred features.

Includes: Three Batteries + Charger + HDMI and SDI Cables + Hoodman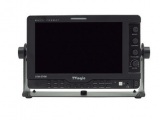 [
+ enlarge
]
The LVM-074W features waveform/vectorscope, built-in HDMI to HDSDI conversion output, Horizontal and Vertical Image Flip, Focus Assist, and Audio Level Meter. The user selectable Temperature Adaptive Color function measures LCD panel temperature and automatically compensates the white balance drift caused by a cold or hot weather.

FEATURES:
7" 1024 x 600 (16:9) Resolution
White LED backlight
Matte finish panel
Hard coated acrylic filter
Max brightness on / off
Supports TVLogic Calibration Utility for proper color alignment
Waveform / Vectorscope (Y / Cb / Cr, Wide Type, Line Waveform, Full Size)
GPI (RJ45)
Timecode display
Range error
Marker
User aspect
Blue only / mono
H/V delay
ocus assist
H/V flip
Luma (Y') zone check
Zoom
3G-SDI Level A/B
UMD support (ANC, Manual, Dynamic and User)
Closed Caption: CEA-608/708 (SDI)
Monitor Control using RS422
Magnesium housing, lightweight
External Tally (Option)
Temperature adaptive color
HDMI-to-SDI convention output
HDMI-to-HDMI Active Loop Through
SDI-to-SDI Active Loop Through

Dimensions:
Main body: 203mm x 131mm x 34.6mm / 8" x 5.16" x 1.36"
With stand: 240mm x 143mm x 69mm / 9.44" x 5.63" x 2.72"
Weight: .94kg / 2.07lbs.