Comtek
COMTEK is a leading developer and manufacturer of specialty wireless communications equipment. We continue to offer new and innovative solutions for remote program monitoring, IFB, discreet cueing, wireless tour guide systems, language interpretation systems, and both large area and personal assistive listening systems (ALD's). We are proud of our reputation for outstanding reliability and excellent customer service.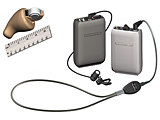 The RC-216 Receive-A-Cue system is a professional quality, digitally synthesized wireless cueing system operating in the interference-free 216-217 MHz band. The IR-230D induction receiver and NTC-102 neckloop eliminate the need for visible wires going directly to the ear. With the adjustable volume control and low residual noise, this discrete earpiece is loud enough for even the most demanding environments. The dual function M-216 transmitter can be used with a lapel microphone for live cueing, or the AUX input and whip antenna can be used to send cues from a line level audio input source. Also, the AUX input on the transmitter allows for prerecorded material to be played back from another sound source such as an MP-3 player, dat recorder, or even a feed from a mixing board.

The complete RC-216 system includes:
- M-216 wireless microphone transmitter
- CM-183 omnidirectional lapel microphone
- PR-216 personal receiver
- NTC-102 neckloop transductor
- SM-N earphone assembly
- IR-230D inductor receiver
- Auxiliary audio input cable
- C-216 carrying case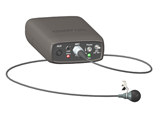 The M-216 wireless microphone transmitter offers the ultimate performance and versatility for assistive listening, language interpretation, tour guide presentations, personal cueing, and for other personal remote transmission situations. For use with the PR-216 and PR-216 Option 7 synthesized receivers.

The M-216 incorporates the latest digital and analog technologies to produce low residual noise, wide dynamic range, and extended frequency response rendering the most natural sound possible from a wireless microphone.

- High Fidelity Performance
- Adaptive Channel Selection
- Low Power Consumption
- Dual Function Versatility
- New Rugged Case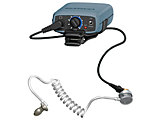 The PR-216/TV 5-6 is a professional quality, personal monitor receiver designed to meet the high demands of the TV, motion picture production, and entertainment industries.
This receiver is used by directors and dignitaries for remote program monitoring, as well as for talent cueing and monitoring for boom-operators and crew members. It is used in TV production studios and ENG trucks for director IFB, talent cueing and camera crews.

- 119 Preset Channels Between 76.200 MHz and 87.8 MHz.
- Antenna integral with output cable.
- Uses a 9 volt alkaline battery, Eveready 522 or equivalent or Ni-MH rechargeable.

Budget Video Rentals is an authorized Comtek dealer.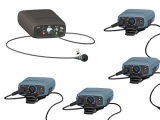 (1) Comtek M-216 Wireless Microphone Transmitter
(4) Comtek PR-216 Receivers
(4) lightweight headsets

Budget Video Rentals is an authorized Comtek dealer

Budget Video Rentals is an authorized Comtek dealer