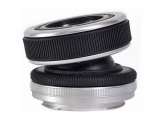 [
+ enlarge
]
The Lensbaby Composer Special Effects SLR Lens is part of the Lensbaby series of SLR lenses, and offers the same spectacular special-effect results. However, the Composer introduces a completely new design. Based on a ball and socket configuration, this version allows for smoother selective focus control.

The Composer will retain its position after being bent, which makes it easy to use even with one hand. Users also no longer have to squeeze the lens to focus. They can simply tilt the lens to a desired angle and then focus with a traditional barrel focusing ring.

A Lensbaby lens is a hybrid between a bellows camera and a tilt-shift camera. It allows for selective focusing with SLR cameras. It will bring one area of a photo into sharp focus, surrounded by gradually increasing blur. Effects like blurring, glowing highlights, and subtle, prismatic color distortions can all be achieved without software manipulations. The lens can be bent off-center in any direction for different results.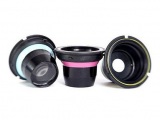 [
+ enlarge
]
This Lensbaby Optic Kit is part of the Lensbaby Optic Swap System, and includes the Plastic, Pinhole/Zone Plate, and Single Glass optics.

Lensbaby has developed a line of different "optics" that can be interchanged with the Muse, Composer, and Control Freak lenses. This system provides artists with an almost unlimited variety of looks and styles to capture their unique visions.

The Plastic Optic provides the softest, dreamiest look in the line-up of optics. It results in photos that have a very ethereal look, with abundant chromatic aberration.

The Pinhole/Zone Plate Optic lets you shift easily back and forth from the pinhole mode to the zone plate mode by simply sliding a toggle inside the optic. In either pinhole or zone plate mode, this optic insert achieves soft focus, dreamy images that are equally sharp from edge to edge.

The Single Glass Optic features a single uncoated optical glass element. It is ideal for fine art, portraiture, black and white images, or any shot requiring a subtle, soft, dreamy effect.