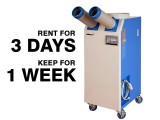 [
+ enlarge
]
Airrex USA has designed a complete line of industrial portable air conditioners utilized for economical spot cooling solutions in server rooms,industrial plants, hospitals and commercial office spaces Data storage rooms and electrical closets are typical applications for these portable air conditioners. The Airrex portable air conditioner has a removable condensate tank or optional condensate pump.

Features:
Cooling Capacity: 17,600 BTU
Size (W x D x H): 19.3 x 23.6 x 48.3
Weight: 185 lbs
Power Supply: 1ph/115V/60Hz
Air Filter: Aluminum
Current Consumption (AMPS) : 15.6
Circuit Breaker Size (AMPS): 20
Rated Power Consumption (Cooling): 2.1
Compressor Input: 1.63
Air Flow (CFM, High/Low) Evaporator: 540/500
Motor Input: 0.38
Nema Plug: 5-20
Power Cord: Plug Type
Static Pressure: 0.04
Power Cord Length: 10
Outlet Air Velocity: 38~33
Outlet Temp Difference: 50~53.6
R-22 Charge: 1.96
Operating Conditions: 60 F DB 60%RH - 113F DB 40% RH
Max Duct Length: 45

ALL AIR CONDITIONERS MUST BE TRANSPORTED VERTICALLY OR SERIOUS DAMAGE WILL RESULT.

NOTE THAT THEY WILL NOT FIT IN A REGULAR CAR OR MOST SUV'S.
THIS UNIT IS 60INCHES (153CM)TALL MINIMUM.


Download:
PDF, Instruction Manual