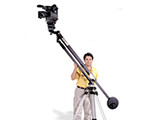 [
+ enlarge
]
The EZ Jib arm is a portable, user friendly and the most versatile Jib arm in the production industry. Cost effective, user friendly and versatile are the attributes that set the EZ Jib arm apart from all others. Add production value and get the sophisticated look of moving camera shots in your productions. Save valuable production time by setting up your static shots very quickly. With the new stabilizer feature you can also do your tripod shots directly from the jib without removing the camera from the jib.

EZ Jib Specs:
Camera Capacity: 50 lbs.
Arm Length: 48"
Vertical Movement: 84"
Weight: 24 lbs.

Fluid head not included

Read more...