Elmo
Dedication to quality, innovation and service is paramount at ELMO and has been for over 90 years. By developing unique highly sought after technologies ELMO has made a positive contribution to our customers whether they are from Education and Government to Law Enforcement and House of Worship.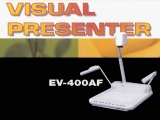 [
+ enlarge
]
Convert overhead projector media to video output. The EV-400AF begins with superior image quality. ELMO utilizes a 1/2" CCD yielding over 450 lines of horizontal resolution and produces outstanding contrast and picture quality when capturing all types of 3D objects, slides, transparencies, and opaque presentation materials.

More Details...



Download:
Operator Manual, PDF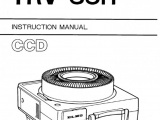 [
+ enlarge
]
Play a carousel of 35mm slides directly to a video monitor. Includes color corrector, focus, and iris controls, Gen-Lock, S-video, and component RGB output.

More Details...



Download:
Operator Manual, PDF