Schoeps
The SCHOEPS name enjoys great respect worldwide, and is associated with products that are impressive in their excellent quality, simple elegance, and ingenious practicality. Without a doubt SCHOEPS is one of the most innovative and original of microphone manufacturers.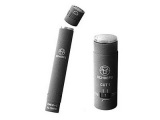 [
+ enlarge
]
The Schoeps MK41 is part of the Colette series of modular capsules designed for use with the CMC preamplifier. Sound arriving from off axis is attenuated even more than with a standard cardioid. The pickup is "drier" and less susceptible to acoustic feedback, provided there isn't a strong sound source directly on the rear axis of the microphone. Its directivity is highly independent of frequency, so that even sounds arriving off axis and reverberant sound are registered without coloration. Consequently, even distant placement of the microphone produces a very natural sound pickup.

Includes:
- Schoeps MK41 Supercardioid Capsule.
- Schoeps Cut 1 - Colette Series Low-Cut Filter.
- CMC4-U Phantom power and output stage.