Astro
Ever since the company was founded in 1977, we, ASTRODESIGN, have always been at the forefront of the electronics industry, and challenged on technological innovation. Our philosophy is to develope products and supply solution that can contribute to the business of our customers. We have been always working to be "ONLY ONE" solution.

Now is the innovative era of digital signal transmission. In terms of display, technology is seeking for high-spec and beautiful, realistic pictures than ever. In terms of broadcasting, after terrestrial broadcasting started in 2011, TV broadcasting and data communication are gradually merged. Among this rapidly diversifying technological field, we have been using our technology based on "High-Speed Digital Signal Processing". We have accumulated knowledge about video standard, how to take it into our products. Not only hardware products, we also supply System Solution for display/broadcasting measurement, high image quality solution.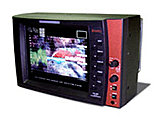 [
+ enlarge
]
HD/SD LCD monitor for monitoring at remote broadcasting and location sites or inside studios. Input signal supports 23 HD formats and 2 SD image formats. Power can be supplied from a camera battery or AC adapter. A wide range of functions includes Brightness, Contrast, and Chroma-Level adjusting as Marker display.

* 8.4-inch a-Si TFT LCD panel
* Compatible with 23 HD formats and two SD image formats
* Supports tally signal 2-channel input
* Brightness, contrast, and chroma-level adjustments
* Marker display function (center, frame, 4:3, 13:9, 14:9, 2.35:1, 1.85:1, 1.66:1)
* CRCC error detection / an input channel display function (when HD-SDI is input)
* Lightweight, compact design
* Low electrical power consumption (22W)
* Up-and-down inversion function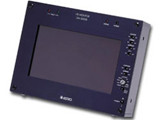 [
+ enlarge
]
DM-3000 is a compact, lightweight and portable 6-inch HD monitor, which is used for camera and VTR check in remote broadcasting and at location sites as well as studios. It can be used with a camera battery, thus images can be checked wherever you go.